Whether you're going to spend your next vacation hiking through the scenic routes of the Appalachian trails or canoeing through a national forest—even if you just plan on spending three days doing drugs in the woods and eating hotdogs out of a tequila-filled cooler at a camping festival—chances are you're going to need some technology to help you through it. Without further adieu, here are five things you should consider purchasing if you're trying to become one with nature this summer.
---
1. Crave Travel Pro ($29.99)
Okay so you're setting off into the wilderness, the great outdoors—off the grid, if you will—to try and Eat Pray Love your way to nirvana, or something. Disconnecting from technology and all the carnal sins of the big city can be great. But come on, are you seriously not going to want to check your phone even once? For those of us who are not ready to take the plunge into complete woodland obscurity, thankfully we have the Crave Travel Pro power bank. This nifty little device, small and compact enough to fit in your pocket, will charge your phone to 100% battery up to four times. That should be enough to keep you sane on your weekend getaway. And if you are one of those weirdos with green texts, don't despair—the power bank is compatible with a slew of devices besides iPhones, including Samsung, HTC, LG, and Android.
Buy it here.
2. LifeProof Braven BRV-1 Waterproof Bluetooth Speakers ($39.99)
Get your nature playlist ready, and then buy these waterproof speakers, which are functional in even the most extreme of environments. According to the product's Amazon page, the BRV-1 is immune to "rainfall, water jets, and water splashing"—which begs the question, is it safe from water drops and sprays as well? Just kidding, of course it is. It can even be immersed in up to one meter of water for half an hour, and come out still kicking. To be honest, this thing is probably more likely to survive the trip than you are. The speaker will play audio for up to twelve hours, and after that just hook it up to your shiny new Crave Travel Pro power bank for a battery boost!
Buy it here.
3. Olympus Tough TG-5 ($379)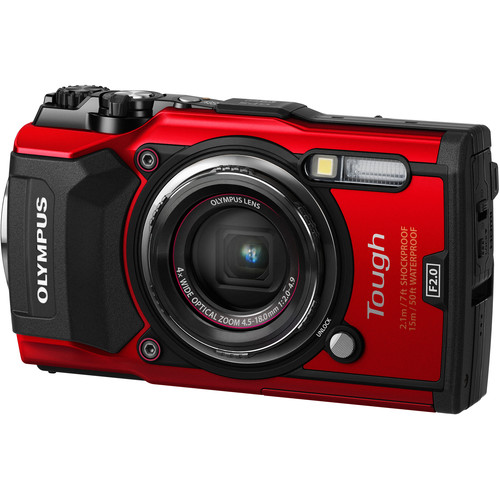 If you're going to be roughing it up in the wilderness, chances are you're going to want some proof after the fact. If it's not on Instagram, did it really happen? However, not just any camera will suffice. You need a device that is built for this type of sh*t. And for this reason, the Olympus Tough TG-5 is your friend. This nearly indestructible little camera can survive just about anything, whether it be 50 feet dives underwater, falls of up to 7 feet, or as much as 220 pounds of weight. To sweeten the deal even further, the thing has built-in GPS, as well as a manometer (for measuring pressure), a thermometer, and a compass. Olympus OI Track app has a cool feature which matches up your pictures to the location in which they were shot, allowing you to recreate your journey visually once you are back in the comfort of your own living room.
Buy it here.
4. Sony Digital Recording Binoculars ($500)
If you grew up in an urban area, you might be under the impression that binoculars are only useful for spying on people across the street while they cook dinner in their apartments—however, that's not actually the case. Binoculars are great for outdoor undertakings as well, and come in handy if you want to get a closer look at some beautiful thing in the distance, whether it be a mountain, a waterfall, or a terrifying animal. These binoculars are even cooler than the norm, because they can actually record whatever you're looking at. Priced at a hefty $500, they're far from cheap—but worth the cost if you want to take memorable videos that will last a lifetime.
Buy them here.
5. Gorillapod 325 ($19.95)
Any photographer knows that tripods can make the difference between a good picture and a great one—and especially on outdoorsy expeditions such as a hike through uneven terrain, a little stability goes a long way. This particular tripod is flexible, lightweight, and best of all, is named after a gorilla because, well, it sort of looks like one. Its "rubberized ring and foot grips" allow it to wrap securely around a multitude of surfaces, and it is compatible with any device weighing up to 325 grams (a little less than a pound). I know what you're going to ask next, and don't worry, an iPhone only weighs around 127 grams, so you're good to go.
Buy it here.